Casa Miantojo
Detached villa with private pool
On one of the wide lanes of the park this beautifully extended villa of the type Antojo is situated.
Completely detached, on a parcel of 320 m2, provided with an atmospheric garden with olive- and orange trees and several terraces.
From the comfortable porch you will have a view of the beautifully illuminated swimming pool at night.
This cozy decorated 5 person holiday villa is located at the heart of the park and is equipped with all the necessities.
Description
Description
Living Room:
Heating via beautiful wood burning stove and radiators. Also air conditioning that can be used for heating and cooling and is strong enough to cool and heat the bedrooms. Great for winter too!
Sitting and dining area, radio, TV (with European channels including all Dutch.) as well as strong WIFI, bookcase with various books and games. Wonderful leather relax chairs. Ceiling fans. Sliding doors from the living room to the patio overlooking the pool.
Kitchen:
Efficient and modern kitchen with hob, oven, microwave, extractor hood, dishwasher, large fridge-freezer, coffee maker, kettle, toaster, various kitchen utensils, crockery and kitchen linen. Everything more than sufficiently available for 5 people. From the kitchen you enter the "back garden" where there is a kind of outdoor kitchen with sink, washing machine and solar shower. Also in the backyard opportunity to dry your laundry.
The kitchen is fully equipped; you will not be missing anything !!!
Bathroom:
The bathroom of Casa Miantojo is always very clean when you arrive as our guest ….. toilet, shower and sink with mirror. Good lighting and window to the back garden.
Towels sufficiently available. TIP ; If you want large beach towels for the beach; please purchase it yourself in the village or take it with you.
Bedrooms 3:
"Master bedroom" with double bed and excellent mattresses (1.80 x 2.00), large built-in wardrobe, ceiling fan and attractive interior. Complete eclipse possible.
The 2nd bedroom is furnished with two single beds with excellent mattresses of 90 x 2.00. Ceiling fans, spacious fitted wardrobes, full blackout and again attractively decorated.
The 3rd bedroom is in open (the arch) connection with the living room. There is a single bed of 90 x 2.00. Good lighting and darkening. Also space for the
Ample bedding for summer and winter is available. High chair and baby bed are also available free of charge at Casa Miantojo.
Storage room ;
The separately lockable storage space of the house is 2 by 2 meters and offers plenty of space for storing whatever items you want. Together with the large cupboards in the bedrooms you have plenty of room to store your "things". Ironing board and iron and vacuum cleaner are also in the storage room.
Porch:
Large hardwood dining table with chairs with a beautiful view of the swimming pool. Atmospheric adjustable lighting. Decorated with beautiful Spanish furniture. There are also some extra "patio chairs" available for your possible visit. Typical Spanish dresser for your things.
Terrace:
Indestructible stone garden table with 5 seats on the sun terrace. Around the house you will always find a place for sun or shade.
Terrace/pool:
Sun lounger seats are available and the solar outdoor shower is next to the swimming pool. Always rinse the sunscreen of your body before taking a dip in the 4 by 8 swimming pool which is tested and cleaned 2 to 3 times a week.
Outer area:
Sink, washing machine, washing line, clothes pegs, div. cleaning supplies.
Garden:
Everything located in a beautiful Mediterranean garden with beautiful plants so that you will feel like you are in " Pure Spain ". Welcome to Casa Miantojo at Villamazarron.
Prices
Price
| Period | Price per week | Price per two weeks |
| --- | --- | --- |
| 26-02-2022 till 11-06-2022 | € 490,- a week | 2 weeks € 900,- |
| 11-06-2022 till 25-06-2022 | € 595,- a week | 2 weeks € 1.100,- |
| 25-06-2022 till 16-07-2022 | € 875,- a week | 2 weeks € 1.750,- |
| 16-07-2022 till 03-09-2022 | € 950,- a week | 2 weeks € 1.900,- |
| 03-09-2022 till 17-09-2022 | € 595,- a week | 2 weeks € 1.100,- |
| 17-09-2022 till 29-10-2022 | € 490,- a week | 2 weeks € 900,- |
| 29-10-2022 till 25-02-2023 | € 420,- a week | 2 weeks € 775,- |
| 25-02-2023 till 10-06-2023 | € 490,- a week | 2 weeks € 900,- |
| 10-06-2023 till 24-06-2023 | € 595,- a week | 2 weeks € 1.100,- |
| 24-06-2023 till 15-07-2023 | € 875,- a week | 2 weeks € 1.750,- |
| 15-07-2023 till 02-09-2023 | € 975,- a week | 2 weeks € 1.950,- |
| 02-09-2023 till 16-09-2023 | € 595,- a week | 2 weeks € 1.100 ,- |
| 16-09-2023 till 28-10-2023 | € 490,- a week | 2 weeks € 900,- |
| 28-10-2023 till 24-02-2024 | € 425,- a week | 2 weeks € 775,- |
| 24-02-2024 till 08-06-2024 | € 490- a week | 2 weeks € 900,- |
| 08-06-2024 till 22-06-2024 | € 595,- a week | 2 weeks € 1.100,- |
| 22-06-2024 till 13-07-2024 | € 875,- a week | 2 weeks € 1.750,- |
| 13-07-2024 till 31-08-2024 | € 975,- a week | 2 weeks € 1.950,- |
Conditions
Conditions
The guarantee you pay is € 200,-We pay back your guarantee directly to your bank-account on the day of departure.
Final cleaning and key-costs are € 80,-This is the amount we have to pay to the clean-team who will take care that the villa is perfectly ok when you arrive. Also our key-holders will be paid from that amount ; They give you the keys at arrival, explain everything and are always there when you need them !!
The rental price you pay is including ;
electricity.
heating.
-water.
cleaning and testing of the private pool twice a week.
use of internet.
strong WIFI.
tourists tax.
babybed and children-chair.
How to book Casa Miantojo ;
You want to book the villa?
Sent us an email with arrival date, departure date, amount of persons (casa Miantojo max. 5 plus baby) and questions you have.
We will answer and confirm if the villa is still available for you. In the mail we ask your home address to sent the papers by postman. In the papers ; the confirmation, a map, the route to the resort, key-address of Casaña and an information map.
At arrival of the papers you pay by bank € 200,-. When this payment arrives your booking is confirmed. You pay the rest 2 months before arrival in the villa. When your arrival will be within 2 months you pay the whole amount at once when the papers arrive.
One week before arrival at the villa we contact you for the finishing touch. We ask your arrival time at the villa. We or Casaña will be at the villa to receive you, give you the keys and explain you everything you have to know in and around the villa.
You can arrive at 15.00 hours or later. This is because of the cleaning of the villa ; the guests before you left in the morning. Arriving earlier is no problem if there are no guests leaving on the same morning. Ask us !!
The departure has to be before or at 10.00 o'clock. Tell Casaña your departure hour and they will arrive to check the villa and pick up the keys.
After the final check we get an email on the same day to return the guarantee to you.
Electricity ;
At arrival ; put in the plug of the water boiler and take the plug out at the day of departure.
Encase there is no electricity ; check the fuse-box next to the front door in the hall.
Pool-lights can be switched on and off by remote control handed by Casaña.
Please ; never open the pump-box of the pool.
The user-guide of all electric equipment is in the villa. Keep it tidy please.
-T.V. and internet ;
In the villa in television through satelite with a lot of European channels. Casaña will explain you at arrival.
Internet in the villa is for free by WIFI or cable.
Airco ;
Use the airco only when necessary please. Often the use of one hour before you go to sleep, is more than enough. When you leave the villa for a day or a part of the day ; turn the airco off please.
Showers ;
Casa Miantojo has 3 showers ; 2 outdoor solar- showers. 1 in the villa heated through the boiler. Please do always wash the sun-oil from your body before you start swimming. The high temperatures can make the pool green very quick !!
Safety ;
Always beware that the tiles can be slippery when wet !!!
Relaxing ;
In the cupboard are books and games to make your stay comfortable. Also you find here the information-map about the Costa Calidá area. We appreciate when you want to write something in our guest-book before you leave.
Kitchen ;
All food in stock in the kitchen or fridge can be used. But  ; always throw away fresh food on your departure day. Or give it to the neighbours. Water is ok from the tap. But for security reasons we always use water to drink and for our tea and coffee from the bottle. Descaling tablets are in the kitchen. Use them please in the washing-machine. The oven only is in function when the time clock is running. Don't forget to clean the oven before your departure.
Garbage and departure;
On different locations of the resort you can throw away your separated garbage.
Final cleaning ;
You paid for the final cleaning of the villa. Some things are not included ;
The washing during your stay.
If you change your bed-linen during your stay ; please wash them.
Do the dishes before you leave on the departure day.
Put all your garbage in the containers on the resort.
Please check if the barbecue and oven are clean.
Put all the bed-linen in the bathroom before you leave.
Put all the toys back please and check if it is complete and clean for the next guests.
Final check if you didn't forget anything of your own properties ; We will sent it, but it will be inconvenient for you.
Villamazarron wishes you a very pleasant stay in Casa Miantojo
Map
Map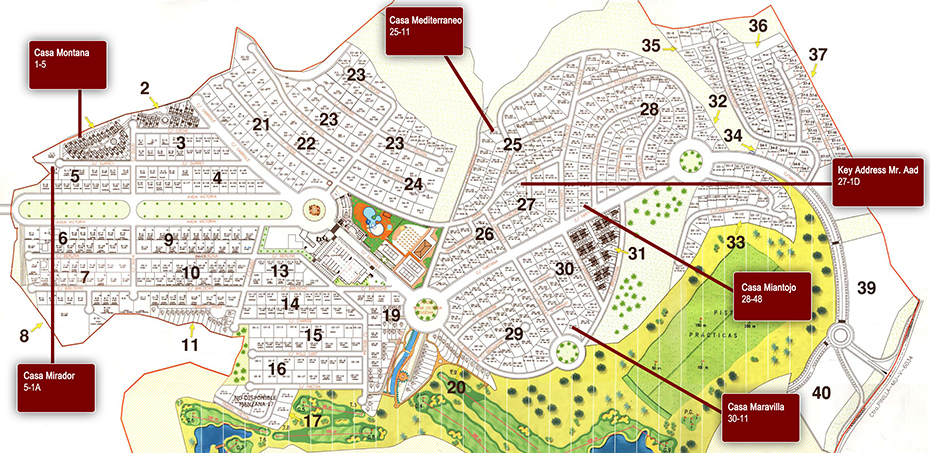 Reviews
Reviews
1. We stayed in Villa Miantojo for 2 weeks in Feb 2018. The villa, garden and pool were all spotlessly clean. It's on a good size plot that catches the sun most of the day, even in winter. The villa, including the kitchen, is well equipped (but there is no DVD player or hair dryer) Bed was comfy, plenty of towels and linen. Plenty of hot water. Excellent Wifi. It was cold at times, so we needed the log fire to supplement the two panel heaters. (It was easy to use, logs available at nearby garden centre) Contact with the owners was always prompt and deposit was returned without delay. The local agent, Casana, was very helpful. We were kindly given 2 bottles of wine and one water. All the villas and grounds at the Mazarron Country Club were very well kept. Beaches were 15 minutes away and some lovely places to visit nearby (Mazarron port, Isla Plana, La Azohia, Aguilas all within 25 – 35 minutes away, we always found some restaurants open, usually we sat outside for lunch – in February!)
The only minor negative point that I can think of is that there were very few English TV channels but I had my tablet which I could stream to the TV via Chromecast.
We hope to return!!
Peter and Patricia Budd